Energy Kinetics was founded by John D. Marran in 1979 and has grown into a leading manufacturer of innovative, high-efficiency heating and hot water systems. The company's core philosophy of helping heating professionals succeed using practical application of energy efficiency has resulted in tremendous growth with these business partners. Our core technology is capable of reducing energy consumption up to 40%, with further gains from integration with our SmartSolar™ Hot Water and other renewable energy sources. Accel CS™, 90+ Resolute™, and the company's flagship product, System 2000®, are manufactured in the USA with exacting, world class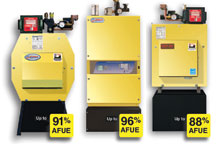 standards and are sold direct to professional heating installation contractors. Our Tech Support Hotline and comprehensive service, installation, and application training
is rated "best in the industry."
For more than 35 years, our partnership with the best heating professionals, combined with our current and continuing development of high performing technologies, strengthens a sound platform that reduces the carrying costs of homes and businesses and reduces our dependence on precious natural resources.  The combination of efficiency technology and renewable energy can provide truly affordable and sustainable solutions for our national energy needs—together we will continue to achieve remarkable results!
Energy Kinetics is an Energy Star Partner and a leading manufacturer of Energy Star® heating equipment.
Visit our website, www.energykinetics.com, or call the friendly Energy Kinetics team at 800 735-2066 and find out how to grow your boiler sales or schedule a live fire demo at your location.