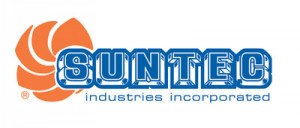 SUNTEC Industries is a world leader in thermal engineering equipment. Since 1934, we design, develop and manufacture high quality fuel oil pumps and accessories for residential, commercial and industrial heating. For the past 30 years, the robustness and reliability of our products have earned SUNTEC a leader position and 90% of the market in the USA.
With operations located in Kentucky and France, and business offices in Germany and Japan, we help companies worldwide to find the best solution to their project. Through our engineering, marketing, sales and distribution teams, we are committed to provide our customer the best service.
SUNTEC offers a wide range of products including pumps for different fuels (diesel, kerosene, waste oil), fuel transfer units, valves and many other components.
We strongly believe in innovation and energy saving, and continuously invest in the future. We offer innovative technical solutions, in particular the modulating pumps, which conserve energy and the environment with noticeable pollution reduction. SUNTEC wants to be a major actor in the field of bio-energies and soon in the field of alternative fuels.
To learn more about SUNTEC and our products, please visit:
http://www.suntecpumps.com/ or call us at +1-(270)-651-7116